What are these Disney cards everyone is talking about?
The hottest trading cards on the market have nothing to do with sports.
It's all about Disney.
In truth, I might be the one who's excited about these cards. But I don't think I'm the only one.
As more and more collectors take notice of these cards, it seems they get the same thought I have.
How can I buy this for myself but make it seem like it's for my kid?!
This year, Disney is celebrating its 100th anniversary. There was a nifty commerical during the Super Bowl and marketing campaigns popping up every where you turn.
But for this collector, the most effective tactic was this set — 2023 Phantom Disney 100 Wondrous Character Trading Cards.
Here's a gallery of same of my favorite cards. Most of these images from Seymour Cards and Collectibles on eBay (affiliate link).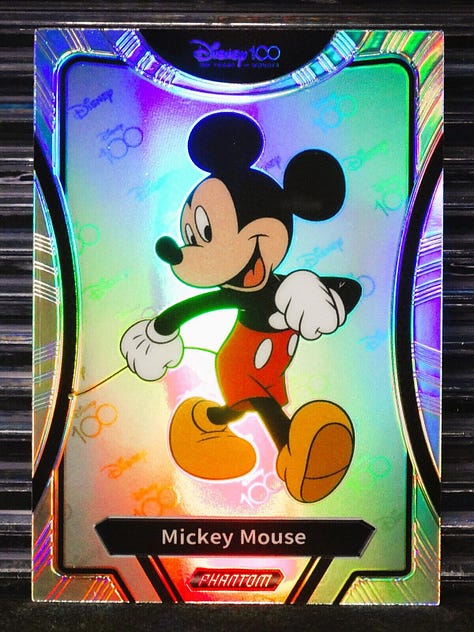 The cards are made and distributed in China from a company called Kakawow.
They're beautiful.
They have a chromium finish with a refractor-like sheen. They feature — as you guessed — charcters from throughout Disney's 100 years such as Winnie the Pooh, Mickey Mouse, Donald Duck, Scrooge McDuck, Mulan and so many more.
Because of the distribution, few details have come out. Collectors have been working on compiling an English-version checklist.
Right now, the only place to get a box or case is through reputable dealers on eBay (affiliate link). At least that's the only place I haven't seen them sold out.
I bought a box for $200. I couldn't resist.
What makes these cards so special?
First of all, it's Disney!
Families have bonded over these characters across generations.
But even more than being a Disney-licensed trading card set, the cards are well done. It has taken bits and pieces from products like Chrome and Prizm that work while leaving out the filler. The cards offer a simplistic design that have a higher end feel.
There are chase cards with die cuts, inserts, parallels and even "signature" cards.
The cards are fun.
They're nostalgic.
They evoke every good feeling I've had about Disney since I was a kid, enjoying the characters I grew up with and the ones my son is getting to know.
However, there is another important element.
No card fatigue.
There isn't a new Disney card release every week. Instead, there are a handful of releases a year of stickers, promo cards, and a TCG on the way.
Would this product work if they made a new one every year? Probably not as it would eventually run its course.
But this came out at the right time and has certainly grabbed this collector's attention.
Here's a break from YouTube if you want to see more.
Thanks for reading Card Chat! Subscribe for free to receive new posts.